About Periscope Technology Solutions:
Periscope provides end-to-end business solutions that leverage technical consulting, systems design, development, product engineering, maintenance, systems integration, package-enabled consulting, and implementation services.
As a leading provider of technology services, our mission, first and foremost, is to provide outstanding customer experience.
Profound technical expertise on both commercial and open source software combined with sound business acumen enables us to align our solution offerings with specific customer needs. Our application development team has a proven record of transforming a wish list into customized, feature-rich application software that meets the client's business needs.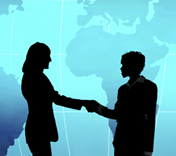 Background:
Periscope was initially founded in the USA in 2005 to assist ERP customers meet their technology consulting needs. The company's primary focus was: IT consulting services to Oracle/PeopleSoft clients with various product suits: Financial Supply Chain Management (FSCM), Human Capital Management (HCM), Student Administration (SA), CRM, etc.
Periscope Technology Solutions Limited was then established in Bangladesh in September, 2005 to provide world-class IT outsourcing services to companies in Bangladesh and abroad. Periscope has established itself as a premier technology outsourcing solution provider by leveraging industry-proven practices and leading standards, refined business acumen, profound technical skills and extensive hands-on experience.
Management & Resources:
Periscope's corporate management is led by highly qualified and experienced professionals who bring several years of experience in the field of consulting, software design and development. The promoters have extensive experience worldwide holding long term senior consulting and management positions with PeopleSoft / Oracle and top-tier consulting firms.
Management:

Global consulting experience in Europe, Asia, North America
Established relationship with BIG4 consulting firms
Mission & project critical application deployment management experience with Fortune 500 clients (General Electric, Credit Suisse Group, Citi Group, Lehman Brothers, MetLife, Verizon Wireless, AT&T, Panasonic, Toyota, Vanguard, and more)

Resources:

Strong IT background with professionals with an average experience of 4 to 10+ yrs
Industry vertical consultants / process specialists for various sectors such as: Telecommunications, Healthcare, Education & Government, Financial Services, etc.
Proven track records in: functional & technical analysis, architecture design, build/programming, integration techniques & methodologies, solution testing, deployment and cut-over strategy, and process re-engineering.